Classes are held at my studio in Chico, CA and at the Flax Farm.

Spring/Summer Weaving Classes 2023
Looms, Yarns and Weaving supplies are provided in all of the classes and workshops.  A deposit of 1/2 is required before class, this will also reserve your place in the class or workshop.  I am also offering loom rental when there are no workshops or classes in session and as always private instruction available as needed. To reserve your class space or for more information on each class please contact me at sandyfisher@norcalemail.com
FLAX PROCESSING WORKSHOP  MAY 2023
Our one day workshop this year this be held at the Fibershed learning Center in Point Reyes Station, Ca.   More information and to sign up, go to this link:
https://www.eventbrite.com/e/490876895007
Saturday, May 7,  10:00 am -4:00 pm
Limited to 15.  Cost $250.00
DOUBLE WEAVE  TECHNIQUE MARCH 2023
This Class will help to unlock the mystery of Double Weave.  Students will learn how to weave two layers to make one piece, bring top layer to bottom layer, woven pockets and color play plus a whole lot more.
Saturday, March, 25, 10:00 am _ 3:00 pm
Sunday, March 26, 10:00 am – 3:00 pm
Monday, March 27, 10:00 am – 3: 00 pm
Tuesday, March 28, 10:00 am – 3:00 pm
Wednesday, May 18, 10:00 am – 3:00 pm
Class is open for 5 students.  COST $450.00
BEGINNING WEAVING CLASSES – April 2023
This class is for the beginner weaver who has never tried out a loom or a great review for someone who would like a refresher course.
Each student will create a Twill Sampler on a four harness loom.  The sampler when finished will show over 50 different variations of twill patterns in one setup. Using black and white yarn the sampler becomes a valuable study for future reference.
During the class the students will learn to:
Measure yarns, calculating how much yarn will be needed for projects, figure out the threads per inch and other formulas.
Read a pattern draft and learn to create one.
Set up loom, thread the loom and connect the peddles.
Learn techniques on how to weave once project is on the loom
Finishing techniques once a piece is woven.
Class is open to 5 students. Cost $400.00
Saturday, April 29, 10:00 am-3:00 pm
Sunday, April 30, 10:00 am-3:00 pm
Monday, May 1, 10:00am-3:00 pm
Tuesday, May 2, 10:00 am-3:00 pm
Wednesday, May 3, 10:00 am-3:00 pm
BLOCK  WEAVES – May 2023
This class will cover basics of block weaves, how it works and how one pattern works in various weave structures. We will also learn how to read drafts through tie up and treadling.  We will all design our own pattern which will be woven in class.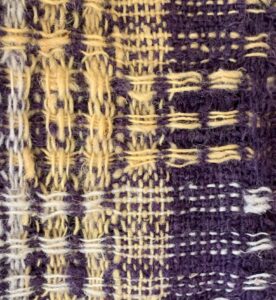 Saturday, May 20, 10:00 am – 3:00 pm
Sunday, May 21, 10:00 am – 3:00 pm
Monday, May 22, 10:00 am – 3:00 pm
Tuesday, May 23, 10:00 am – 3:00 pm
Wednesday, May 24, 10:00 am – 3:00 pm
Class is open for 5 students.  COST $450.00.
INTRO TO NATURAL DYES WORKSHOP  June 2023
This one day workshop to be held at the Flax farm This workshop will go over how to mordant your yarns in both plant and animal fibers.  A variety of plant materials will be prepared to dye yarns.  Seeing the effects of adding modifiers to the dye will be explored. Special this year  everyone in this workshop will explore some of Sandy's home grown Madder which has been growing for three years in her garden.
Class is limited to 12 students.  Cost $ 150:00
Saturday July 15, 10:00 am – 4:00 pm