CHICO FLAX'S MISSION
To pilot regenerative production and processing systems for flax in our region, bringing a new industry and social enterprise to Northern California in collaboration with local community members, farmers, artisans and institutions.
FROM FLAXSEED TO LINEN THREAD
Believing in regenerative agriculture and processing systems, Sandy is actively involved in every step of the process of making her linen blend yarns.   This interest is also infused into her current work. She collaborates with local community members, farmers, fellow artisans, and institutions to grow, harvest, and process flax into linen-blended yarn.
Collaborating with:
Bare Ranch- Lani Estil – Eaglesville, CA – Wool
Botanical Colors- Natural dye extracts-Seattle, WA
Chico Flax LLC – Chico, CA -Linen
CSU Chico, Center for Regenerative Agriculture and Resilient Systems
Fibershed – Producer Member
Mendocino Wool and fiber, Inc. – Mill- Matthew and Sarah Gilbert
Mountain Meadow Wool Mill– Buffalo, Wyoming
Sally Fox- Vreseis LTD- Capay Valley, CA – Cotton
www.chicoflax.com
info@chicoflax.com
Instagram: chicoflaxtolinen
Facebook: Chico Flax
                          CHICO FLAX YARNS PERFECT FOR WEAVING AND KNITTING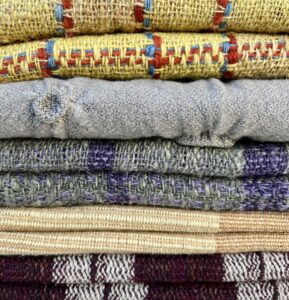 After 8 years Chico Flax is now proving yarns blended with wool for both the knitter and weaver.  A blend of 35% flax, 65% wool is just the right amount for the attributes of linen's durability, anti-mircobial, luster and drape added to wool's warmth creates a very luxurious fiber.  These yarns are available at www.chicoflax.com